Photo Gallery in Powell
Pup-A-Razzi Salon in Powell offers several services to pamper your pet from head to paw. Whether you're looking for a quick nail trim or a full doggy spa day, we can customize our services to meet your needs.
---
Pet Salon
Our pet salon provides some of the best dog grooming services in the entire region. If your dog has seen cleaner days, we'll get them fluffy and fresh again in no time for a price that fits your budget. Your pet will receive the very best treatment possible and leave our salon looking sharp. We love working with animals so they love being with us. Our salon services include washing, grooming, and any other service you request for your dog.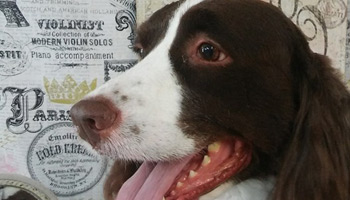 ---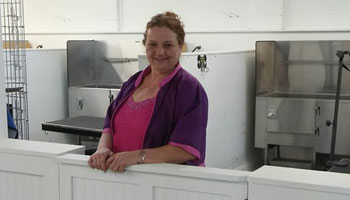 Dog Grooming with Andrea Bailey
Provide your dog with the best possible grooming experience when you trust your pet to Andrea Bailey. Andrea is a dog groomer with nearly 20 years of experience. She became certified through the Nash Academy and also attended The Paragon School of Pet Grooming, two of the top grooming schools in the country. Andrea loves working with dogs and will make yours feel at ease. She provides bathing, grooming, nail trimming, and ear cleaning as needed to keep your pet looking their best.
---
Dog Wash
Pup-A-Razzi knows that dealing with a stinky, smelly dog can get old really fast. Our dog wash service will get your dog smelling fresh and clean again in no time. We also offer a self-service wash station if you want to wash your dog yourself but leave the mess behind.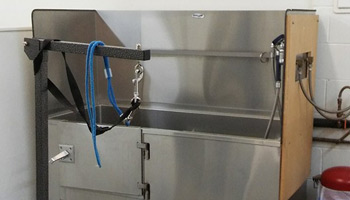 ---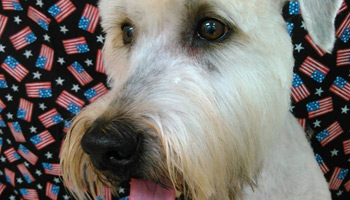 Doggy Day Care
If you're going on vacation or you don't want to leave your pet alone while you're at work, Pup-A-Razzi offers doggy day care services as well. We know you don't want to risk trusting your pet to inexperienced people or place them in an uninviting, stressful environment. Our day care center has a great reputation and offers a warm, nurturing atmosphere. You can count on us to take great care of your dog. We provide them with plenty of time to play outdoors and will feed them according to their meal schedule at home. Our staff provides personalized attention for each pet and ensures they receive plenty of love and praise. We do whatever we can to make your pet feel at home.
---
Dog Nail Trim
If you can hear your dog's nails clicking on the floor when they walk, it's time to get them trimmed. Our Powell pet salon offers nail trimming services for dogs of any breed and size. We have a technique that ensures the dog stays calm while we cut the nail as short as possible without disturbing the quick. Keeping your dog's nails short helps them avoid pain when walking and prevents them from scratching you or your furniture.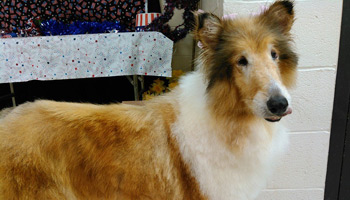 ---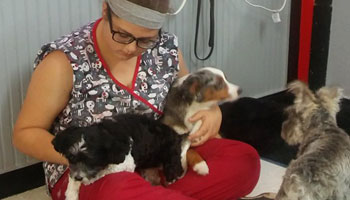 Pet Sitting
If you need someone to keep your pet company while you're on vacation or during the day while you work, we also offer pet sitting services in your home. One of our experienced pet handlers will come out to your home and not only keep them company, but take them for a walk, feed them, change their water bowl, play with them, take them out for potty breaks, and administer medication if needed. Of course, we provide plenty of TLC as well. Contact us to set up a schedule that meets your needs or to learn more about our pet sitting services.
---
Dog Cut and Style
For dogs with long fur, Pup-A-Razzi offers cut and styles services. Trimming your dog's coat will keep them cooler in the summer, prevent matting, and help your dog stay cleaner in between baths. We can style your dog's fur according your preferences and add finishing touches such as a bow if desired. This service is available on its own, after a bath, or with any of our salon services.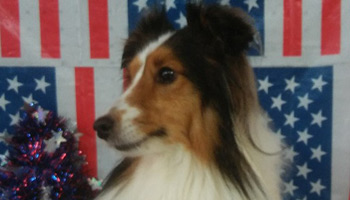 ---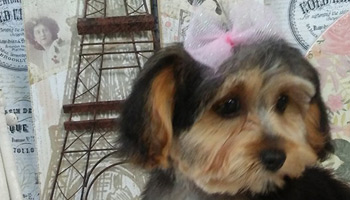 Dog Spa
Our dog spa combines all the services above into one complete pampering experience. Bring your pet in for the full package and give them the relaxing spa day they deserve. This includes a bath, grooming, nail trim, and cut and style service.